Upcoming Events
Monday, March 19
Tuesday, March 20
Thursday, March 22
Friday, March 23
Friday, March 30
PTA Elections
As required by the By Laws, the Nominating Committee is presenting the following slate of nominees for the 2018-2019 school year.
As you can see, there are quite a few offices where a nominee was not slated. If you, or anyone you know has interest, or would like more information, please contact
president@boggesspta.org
.
Elections will be held next week, at the General Membership Meeting, Thursday March 8 at 6pm.
The Auction Has Ended!
The Auction has ended, but there are still items available. If you find an unsold item that you would like, please contact president@boggesspta.org with your best offer.
https://www.32auctions.com/BoggessPTASpringFling2018
We appreciate all of the individuals and families that participated in the auction! It was successful beyond our expectations, and will allow the PTA to continue to provide for the students and staff of Boggess.
Auction Payment:
If you have won auction items, but still need to pay, you can do so through the Auction site (www.32auctions.com), or if you would prefer to use our website to complete payment, you can use the General Donation Form.

Dance & Talent Showcase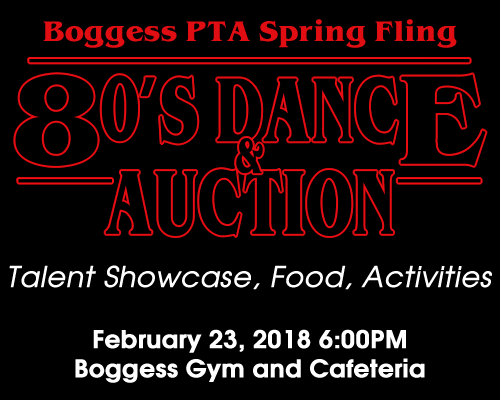 Thank you to all of the volunteers that helped with the Dance and Talent Showcase.
And what GREAT PERFORMANCES by the students of Boggess! Congratulations to you all for your excellence and willingness to perform!
Translation at Boggess
DELL Chromebooks and Boggess PTA
If you are considering purchasing a computer for your child to use at home, and are interesting in a Chromebook, you can purchase one and benefit Boggess at the same time!
The students of Boggess are already familiar with the Chromebook operating system, using it frequently at school...
Special January 2018 Promotion
Learn more and view/download flyer...
Dell PTA Partnership Program
http://www.dell.com/boggesspta
Bricks, Bots and Beakers - Registration Now Open
Bricks, Bots and Beakers registration is open!
This Boggess PTA After School Program takes place on Thursdays after school. It starts on December 7, and is split across the winter break, ending on January 25, 2018.
School Supply Donation
A special Boggess Bengal Thank You to Michelle Allard (sister of Boggess Parent Melissa Dalton) for ferrying the school supplies donated by Boggess families to the Houston Food Bank Teacher's Aid Program.
These supplies will be available for teachers in Houston as part of the disaster aid following Hurricane Harvey.
Thank you to all who donated, and thank you again Michelle!
The Houston Food Bank is currently the largest Feeding America food bank in the U.S., in both the amount of food distributed to its partner agencies and in the size of its facility. Thanks to strong community support, the Food Bank uses only 5% of all resources for operation costs, which allows 95 cents of every dollar to feed hungry children, adults and seniors.
The organization focuses on balanced diets, nutrition education, and social services provided through its programs, such as Backpack Buddy, Kids Cafe, and Teacher's Aid Programs.
Named top charity in Texas by Charity Navigator for financial performance and accountability, the Food Bank provides 74 million nutritious meals to food pantries, soup kitchens, senior centers and other agencies, feeding 137,000 people each week.
Student Council Canned Food Drive
As a part of the Bengal Creed, we serve our community. The Boggess Student Council is coordinating the canned food drive again this year, and have placed collection bins in each of the grade level hallways. If you have canned food that you would like to donate, send it in with your students, and the Student Council will collect and tally the cans for each grade level. The grade level that donates the most cans wins a prize!
If your students didn't mention the results of the Boggess Student Council Canned Food Drive, here they are:
Total Cans Collected: 4449
Kinder: 481,
First: 416,
Second: 661;
Third: 907;
Fourth: 509,
Fifth: 890;
Staff: 585
Third Grade wins!!
PISD works in conjunction with the Assistance Center of Collin County and Plano Santas to hold the canned food drives at each school and district facility, and has participated in this effort for over 18 years. This group of local Plano merchants, business men and women, civic and community leaders provide assistance to needy families each year during the holiday season. A month's worth of food and children's gifts are provided for more than 500 families each year!
Benefit Boggess when you Shop
The Boggess PTA Participates with several Community Partners all year long. If you are shopping this summer, please consider participating with the following: